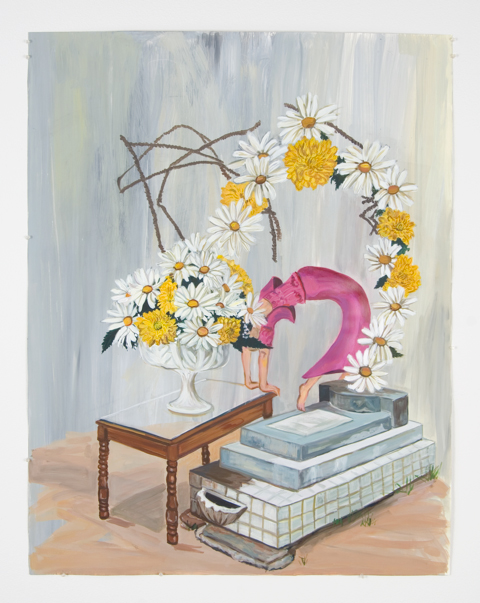 Front Gallery is pleased to present objects and works on paper from Susan Whyne's ongoing series "Perpetuity."

The transitory theme in this body of work is inspired by the artist's experience with Mexican burial culture. She is influenced by the strange architectural qualities of grave markers, as they exist in Oaxaca, Mexico like real homes with yards, staircases, pillars, and towers. Homes of the dead become highly decorated symbols of homes of living, and Whyne exaggerates this symbolism in her paintings with images from domestic furniture and fashion magazines.
Whyne's sculptural works refer to the wreathes and bouquets she encounters at the cemeteries she visits. She reconstructs shards and fragments of decorative ceramic ware into "floral arrangements" that represent the state of disrepair and upheaval nature has taken on grave sites everywhere.

Ultimately Whyne is interested the domain of the living intertwined with the perpetual aging process. Many of her paintings depict circles and round forms that are direct references to stability balls used for exercise. The female figures often found in these scenes are holding on for dear life, further suggesting the struggles of the life cycle.