Lilly Lerner: Voices and Purses
February 11 - March 4, 2017

Lilly Lerner recalls a feeling of great delight in coming home from school on occasion to find a purse sitting on the hallway table, as this indicated that her mother was home early from work. When Lerner evoked this, and other memories of her childhood, she realized she has a story to tell. It is an interwoven story about the women of a small immigrant Jewish community in Colombia where she grew up. Triggered by memories of the purses they carried — vessels in their own right — Lerner embarked on a series of depictive ceramic vessels. She sees each one as a record of its owner's experiences. Though the work began as homage to the women who gave her a sense of belonging as a child, the ongoing series has come to express the voices of women in her life as an adult immigrant to the United States. Lerner began making art after a career in the computer industry, and has been studying ceramics at the Glassell School since 2004. She now maintains a studio of her own, while staying connected to Glassell, and its community of artists.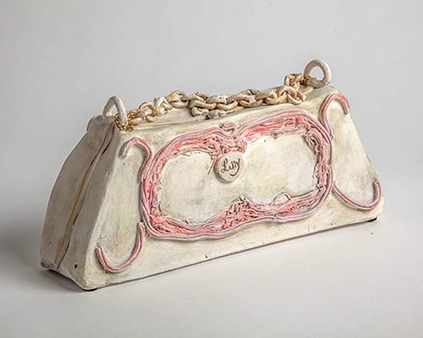 La Tia Pola, Ceramic, 2014