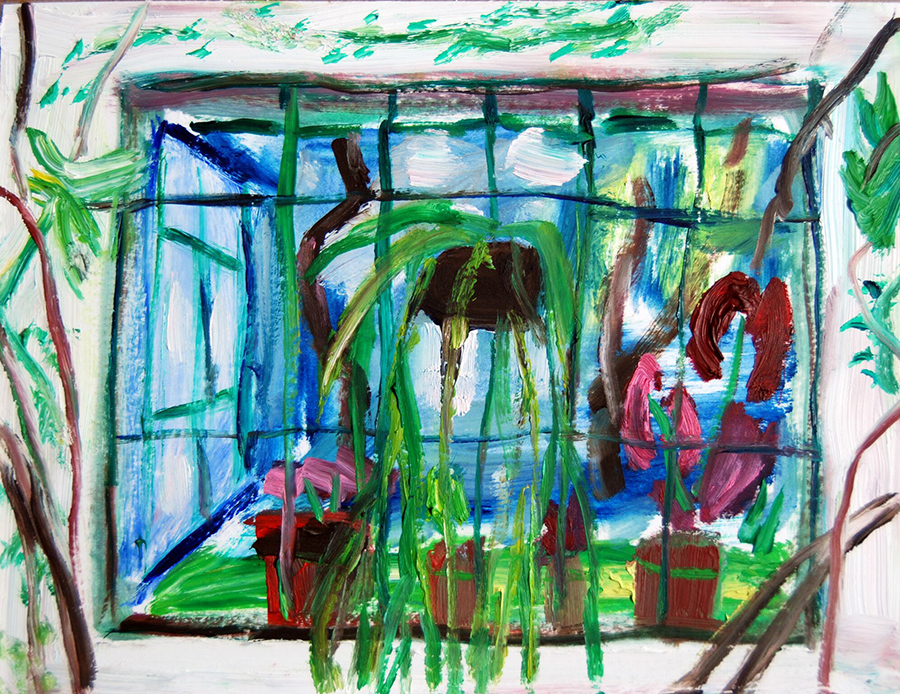 "Invernadero Window," 2017, oil on paper, 4x6"

​
Lauren Moya Ford
Like a Flower and a Current of Air
September 16 - October 7th, 2017
Like a Flower and a Current of Air is a Multi media exhibition featuring several intimate paintings based on 35 mm photographs taken in the Iberian Peninsula. Through the act of painting Moya Ford retrieve's and invents information about the moment and mood captured in the image. Her video Recuerdos explores the way touching a photographic image triggers storytelling, and a slipperiness between memory and making. The artist will also present her new limited edition book Nine Postcards and a Love Letter, which features a selection of postcards paired with short writings about art historical and personal moments. The book was published as a risograph print by The Center for Imaginative Cartography and Research. Also included in the show is a series of ceramic vessels inspired by the folkloric ceramics of Spain, and made in collaboration with cermaic artist Lindsey Wohlgemuth.

Moya Ford is an artist and writer based in Madrid, Spain. She graduated with a BA in Spanish and a BFA in Studio Art from the University of Texas and completed her MFA in Painting at the University of Houston in 2014. Recent awards include the Cynthia Woods Mitchell Center Fellowship for Interdisciplinary Art and the Frank Freed Travel Grant for research in Mexico City. She has participated in performances and exhibitions at The Menil Collection, the Museum of Fine Arts Houston Hirsch Library, and Temple University. Her essays have been published in exhibition catalogs at the Municipal Museum of Lalín, Spain and the University of Coimbra, Portugal, and her artists books have been published by The Center for Imaginative Cartography and Research and Paratext Press.
Proceeds from all sales throughout our season will benefit the Harvey Arts Recovery Fund
<main page>