Jo Ann Williams is a collector of things odd and precious. She recalls a childhood visit to a mummy exhibit where she fixated, not on the corpse, but on the adornments, glass vials, and ancient remnants. Williams' jewelry designs are evidence of her lifelong obsession with such treasures; to visit her studio today is to visit an arcade of wonders. Front gallery is delighted to offer a glimpse into Williams' process with an installation of curios from her studio and a selection of her enchanting jewelry.

Borrowing from a Scandinavian technique known as Saami band-weaving, Williams uses her fingers to crochet fine fibers into long strands. She then interweaves gems and charms from her personal collection. When asked to identify items she has incorporated into her strands she lists "sting ray mouth parts, fossils, beach stones, vintage watch parts, semi-precious stones, diamonds, Tahitian pearls, direct cast botanicals, ancient beads and Roman bronzes, moose antler, raw minerals, geodes, meteorites, casts from a collection of gumball charms, and vintage military pins.

After more than a decade of working in this vein,
Williams has mastered the art of the gift.
Every necklace is uniquely designed and every tiny embellishment has a story. Front Gallery brings you the opportunity to explore some of these stories and take a treasure home.

Artist receptions:
December 3rd 5-7 pm and December 24th 11-1 pm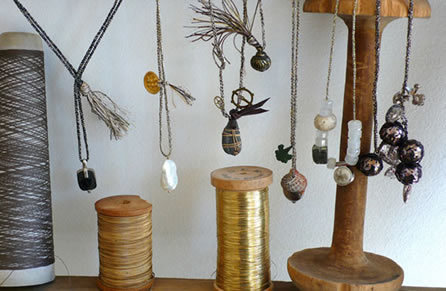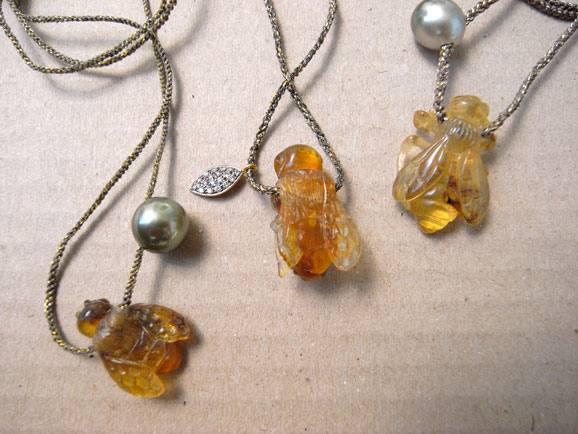 (top): Necklaces with spools of vintage metallic thread. Charms include: acorn carved from petrified wood, beach stone wrapped in vintage
gold threads, trilobite set in sterling, vintage sequin balls, Roman bronze amulet, and South Sea pearl.(bottom): Bee charms carved from aged Chiapas amber.