Alex Kvares:Sunglasses on a Skeleton
February 20 - March 12, 2016

Like most of Kvares' work, his new works on paper at Front Gallery are dexterous, comical, critical, political, historical, emotional, and often unsettling.

His lifelong drawing practice is informed by his lifelong preoccupations—philosophy, political history, art history, music, pop culture. His typically small drawings are opulent, and full of substance. They are densely filled with symbolism and workmanship. His highly personal narratives speak to us all, and to all our psychic predicaments.

Kvares lives in Brooklyn, and has ties to Texas.  He has shown extensively throughout the United States with a recent solo exhibition at ADA Gallery in Richmond, Virginia.  His solo show All My Work is Posthumous at Mulherin + Pollard, New York is featured as a Critics Pick in the January 2014 issue of Artforum. His work is also included in the January 2014 issue of New American Painting where the artist states:
My work, which purposefully avoids having an optimal viewing distance,
is not only aware of its own failures, it focuses on the mechanics of failure at large. It is less fascinated by traditional transgressive gestures—by externalized irony—than by the transgression of the gesture itself. It is about, in the aggregate, the awkwardness of growing older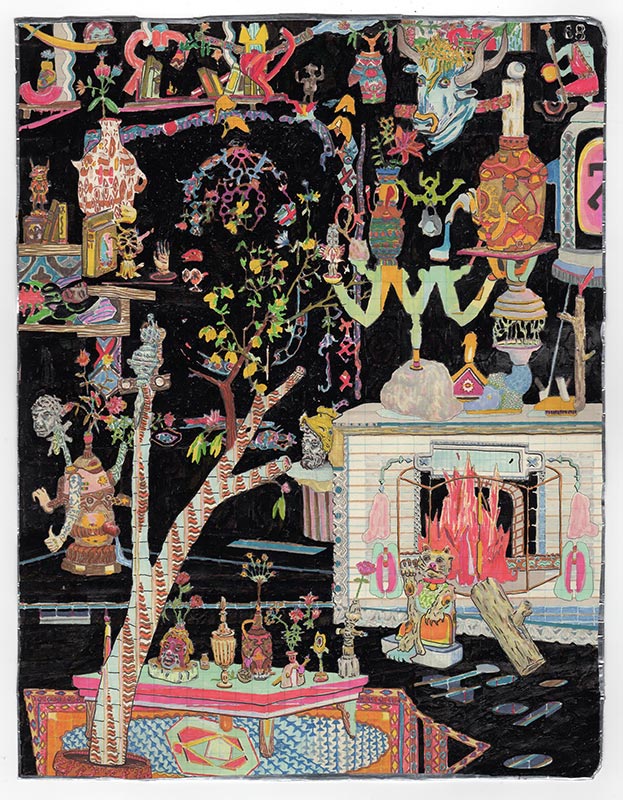 "88"
2016, graphite, marker and aluminum on paper,
11 3/4 X 9 3/8"